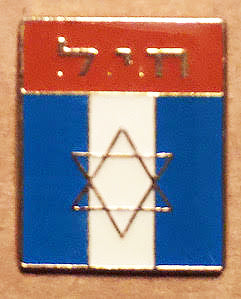 Israel Military Products
The Jewish Brigade Pin
JB-100
This pin was belong to the Jewish Brigade : 
The Jewish Brigade (in English by official name: Jewish Brigade Group, and in Hebrew is also known as the "Jewish Fighting Brigade" or the initials, "HIYL", and in the name of the "Hebrew Brigade", and in many words, in short, the "Brigade") was a division in the British Army. All Jews, mainly from the Jewish community in Palestine, volunteered for the British Army during World War I. Britain decided to establish it only towards the end of World War II - in July 1944. 
This was the first British military brigade in World War II, which All of its soldiers and commanders were only Jews of Palestine, with Jewish life and Zionist emblems, who participated in the war against Nazi Germany. The Jewish brigade took part in battles conducted to launch the last German line of defense in northern Italy, the Genghis Khan line, under the Allied Italian Front At its peak, the brigade numbered about 5,000 soldiers - more than 13 percent of the total number of volunteers from the Jewish community in Palestine to the British army, estimated at 38,000. 
The brigade, with all its units, remained in the front from March 3, 1945 to April 25 1945, three weeks in real battles. At the end of the fighting in Italy and the surrender of the Axis, the brigade soldiers continued The death of a military government in Europe. In this context, they extended much assistance to Holocaust survivors, organizing the escape and their immigration to Israel. Many IDF commanders during the War of Independence acquired their combat and commanding experience within this brigade.
---
---
More from this collection